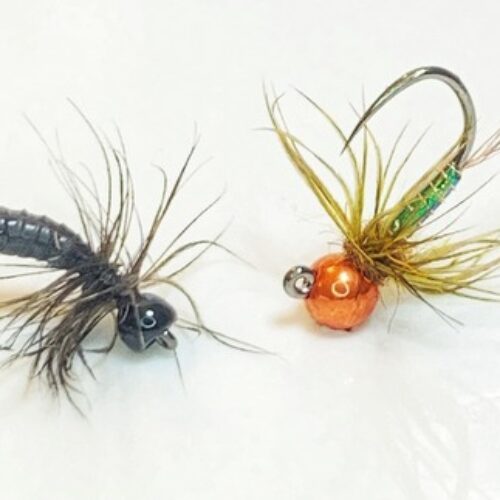 Bush Creek Fly Pack – Jim's Sunset & Damp Ant
$19.95
Tied on Dohiku Barbless  hooks 
Jim's Sunset

Jim's Sunset is all about flash and movement. The beads are a custom colour from Flyfinz with a tinsel body and Ice dubbing tail.  partridge hackle gives the fly some movement .
A good fly to change to when things seem to slow down.

Damp Ant

This is a handy summer fly: cast into the bank especially under vegetation , pockets and drop offs. The body uses silicone tape with a soft and stiff hackle to give the impression of legs. A small bead drops the fly below the surface and encourages fish holding in the deeper water during warmer days. .
6 Flies per presentation pack  : –
3 @ Jim's Sunset   3.2mm tungsten bead tied   Dohiku Jig size 14  – 3mm tungsten bead

3 @ Damp Ant 2.4mm black nickel tungsten bead tied on Dohiku Pupa size 16 – 2mm tungsten bead