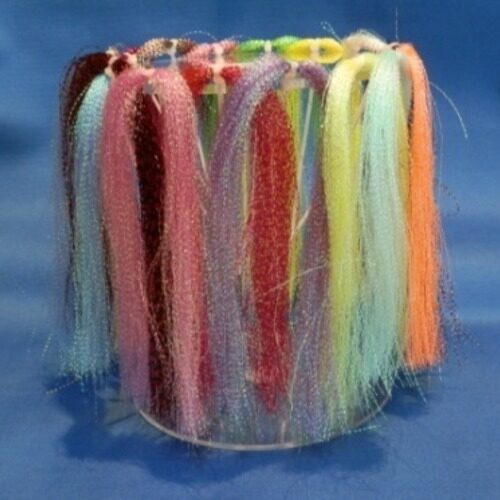 Flyfinz – Krystal Flash & Carousel
$72.00
Convenient  material dispenser for your tying bench.. The carousel holds 16 different Krysal Flash colours  which are cable tied for insertion into the rotating top of the carousel. Each colour band contains  approx 150 @ 30 cm lengths of each colour which can be easily removed and returned into the slotted top when not in use.
Various colours are available however the initial pack contains all the most common Krysal Flash colours suitable for fresh and salt water flies. Repeat orders for individual colours are available and other colours are available. Until listed on new web site please contact us at info@flyfinz.com
Carousel and 16 Krystal packets is $48.50 a saving of $23.50 and a free spinning carousel !!!.
Carousel has 3 separate components which can be assembled without any gluing or complicated assembly. Carousel is made from CNC machined cut polycarbonate.
Replacement packs of the Krystal Flash range are $4.50 each.
Special price – Limited stock available