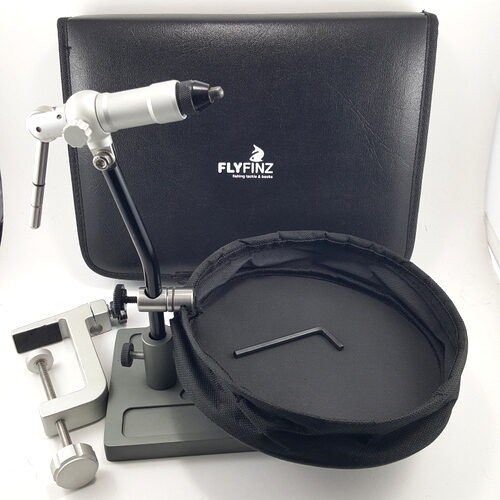 Sale
$94.95 – $157.45
The Flyfinz Rotary Action Travel Vice is an  extremely durable and simple single lever action rotary vice for your use at  home or for travel. Standard set up includes vice and "C " style desk clamp mounting , Allen key to adjust jaw angle to suit preferred jaw angle / setting and cloth bag.
At 274.5 grams in total weight it's the ideal travel vice.  Aluminium shaft construction and chromium carbon steel jaws to ensure all size hooks – #22 to #3/0, can be accommodated without  any issue. SEE  ADDTIONAL INFORMATION BELOW.
We are offering various combinations to add to your vice set up. All items are sold separately  (see other listings ) . We also offering a discounted combination price of $154.45  for combined purchases of all 4 items.  That's a saving of $18.50.
Additional items are :
Solid aluminium pedestal base  – $44.00

Waste bag with magnet clip for easy removal from vice stem to empty contents  – $18.50

and a Zippered carry case for travel and keeping vice components together – $15.50