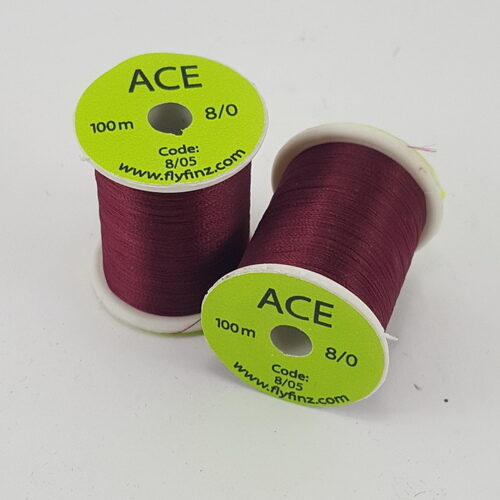 ACE – CF Polyester Thread – Germany
$6.50
ACE Fly Tying Thread
Introducing a new Flyfinz product – ACE which is a CF Polyester fly tying thread, produced in Germany.
The new thread is available in 4 Denier/Aught sizes and a range of the 6 most required colours. Please refer to the specification table below.
It is key to note that this thread is CF Polyester. CF meaning – Continuous Filament which is much stronger than other tying threads such as Spun or Bonded which are more commonly available and possibly on your tying bobbin now. Spun and Bonded tying threads are manufactured using shorter lengths (staple lengths) of raw fibre, spun together. These thread types can be uneven, less smooth and have less break strength due to the shorter staple. By comparison CF fly tying thread is a multitude of continuous filaments of polyester spun together to create a smooth continuous product which is highly desirable to Fly Tyers.
ACE Fly Tying Thread can be untwisted to enable a flattening on the hook shaft and can be split for fine, small hook dubbing.
Denier 

Ort

Break Strain
Hook Size

70

15/0

726gm

1.2lb

18-22

80

8/0

800gm

1.6lb

14-18

105

6/0

1060gm

2.4lb

8-14

165

3/0

1680gm

3.7lb

1/0 – 6
Additional information
| | |
| --- | --- |
| Thread Size | 15/0, 3/0, 6/0, 8/0 |
| Thread Colour | Beige, Black, Claret, Drk Brown, Grey, White |