Description
Welcome to our page about Genuine Seals Fur Dubbing, a popular fly tying material for anglers and fly fishing enthusiasts. Here you will find valuable information about Genuine Seals Fur Dubbing, its qualities, and how it can enhance your fly tying experience. Whether you are a seasoned fly tyer or a beginner looking to explore new materials, this guide will provide you with all the essential details.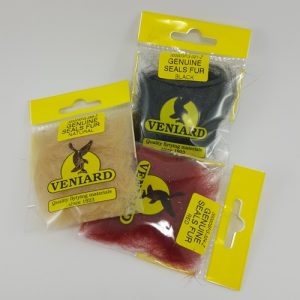 Introduction:
Genuine Seals Fur Dubbing is a highly sought-after material in the world of fly tying. It is derived from the fur of genuine seals, carefully harvested and processed to create a versatile and effective dubbing material. Renowned for its unique properties, Seals Fur Dubbing has gained a reputation among fly tyers for its lifelike appearance, superb water-absorption qualities, and ease of use.
Why Choose Genuine Seals Fur?
Realistic Appearance: Seals Fur Dubbing possesses a natural translucency that mimics the appearance of aquatic insects and other small organisms. Its fine fibres create a lifelike effect, making your flies irresistible to fish.
Excellent Water Absorption: Seals Fur Dubbing has a remarkable ability to absorb and hold water, enabling your flies to sink quickly and remain submerged. This quality is particularly beneficial when imitating insects that reside underwater.
Ease of Use: Seals Fur Dubbing is incredibly easy to work with, making it suitable for both beginners and experienced fly tyers. Its fine texture allows for precise application, whether you're creating a dubbed body, thorax, or collar on your fly patterns.
Versatility: This dubbing material is available in a wide range of colours, allowing you to imitate various species of insects found in different fishing environments. Whether you need light tones for mayfly patterns or dark shades for stonefly imitations, Genuine Seals Fur Dubbing offers versatility in creating lifelike representations.
Tips for Using Genuine Seals Fur Dubbing:
Prepare Your Dubbing: Before application, consider teasing the dubbing to separate the fibres and create a more natural appearance. This technique helps enhance the dubbing's ability to trap air bubbles and mimic the movement of underwater insects.
Application Methods: Genuine Seals Fur Dubbing can be applied using various techniques, such as dubbing loops, dubbing brushes, or by simply twisting it onto the thread and winding it onto the fly. Experiment with different methods to achieve the desired effect.
Blending Colours: Don't be afraid to blend different shades of Seals Fur Dubbing to create unique colour combinations and imitate specific insect species. Mixing colours can add depth and realism to your fly patterns.
Protect Your Dubbing: To ensure the longevity of your Seals Fur Dubbing, store it in a cool and dry place away from direct sunlight. Proper storage will help maintain its quality and prevent matting or loss of its natural properties.
Conclusion:
Seals Fur Dubbing is a premium fly tying material that offers outstanding realism, water-absorption capabilities, and ease of use. Whether you're targeting trout, salmon, or other fish species, incorporating Seals Fur Dubbing into your fly patterns will increase their effectiveness on the water. Explore the wide range of colours available and experiment with different techniques to create flies that fish can't resist. Trust Genuine Seals Fur Dubbing to bring your fly tying skills to the next level and enhance your overall angling experience.