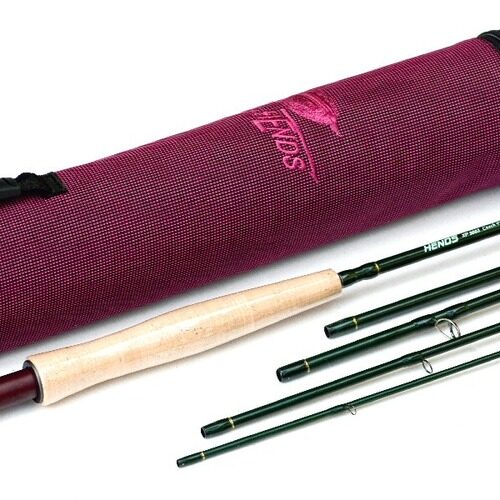 HENDS CSR Series – AFTM Rods
$750.00
New from HENDS the CSR Competition Special fly rods available in 2 different sizes, AFTM 3 & 4.
Base length is 9 ft (285 cm) with an extension section included in the package to extend the rod to 10ft 2inchs ( 315 cm.) Very low base weight of 82 grams (AFTM3) and 84 grams (AFTM4). Great nymphing rod for all nymph styles!
Assemble the four main sections for a neat, modern, 'dry fly rod' that comfortably casts, 3 or 4 weight lines for dry fly and light nymphs. Add the slip in 10ft 2 inch section and the rod is ready for Euro style nymphing.
Wide mouth Cordura rod  tube and cloth cover included
Models available   : 9043/1043 AFTM 3 and 9044/2044  AFTM 4.
Warranty and repairs – 2 year original owner warranty on materials and workmanship and replacement sections are available.
Contact us for details of our "try-before-you buy" programme.
Specifications/Detail:
Graphite IM 12 light construction reinforced with strong nanofibres
Guides – one lined butt ring and single leg snake guides
Slim line AAA rated  half well cork handle
Rosewood reel seat with aluminium reel seat fittings and dual reel locking rings
Matt metallic green  finish
Alignment dots on all sections for ease of assembly
Weight – #3 weight 79 grams,    #4 weight  – 86 grams