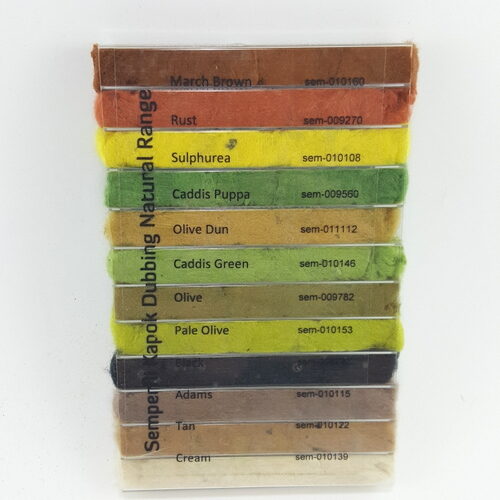 Kapok Dry Fly Dubbing Files – Semperfli UK
$75.00
Kapok the ultimate Highly buoyant dry fly dubbing.
A natural hollow fibre when dubbed into half split thread it retains its buoyancy and will help your dry flies float better than any other natural dubbing.
Kapok fibres have been available for many years and used in life jackets due to its quick drying and water resistant properties – ideal material for using as a dry fly material.
Try it  ….your dry flies will float  and float  without the need for messy floatant .
Files of 12 colours as per list below  – also available in replacement packs  – refer separate listing.
Refer to the Semperfli  catalogue   link  on front page for a full explanation and information about various uses on flies.
May fly Selection :   Black, Marginata,Rust,Light Brown,Gewy Brown,BWO,Rusty Orange,Caddis Green,Olive,Light Olive,Danica,Sulpherea
Natural Selection :  March Brown, Rust, Sulpherea, Caddis Puppa, Olive DUn, Caddis Green, Olive, Pale Olive, Black, Adams, Tan, Cream
Additional information
| | |
| --- | --- |
| Kapok Dubbing files | May Fly Selection, Natural Selection |