Description
Partridge Micro Tippet Rings – Tippet rings are tiny metal rings that are tied to the tippet end of your leader to introduce a tippet section, dropper or indicator  material.  Partridge Micro Tippet Rings provide a junction point from your leader to tippet sections protecting the length of your leader system  Available in various sizes the rings are exceptionally small, light weight  and strong and are suitable for dry and nymph fishing.
Micro Tippet Rings sizes typically refer to the inside measurement of the ring
Sizes Available : 1.5mm  ,  2.0mm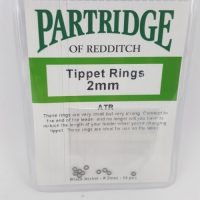 These rings are very small but very strong. Connect to the end of the leader and you will no longer have to cut the end of the leader when you're changing tippet. Round rings are good for fresh or saltwater, sizes are approximate inside diameter in millimetres. The oval rings are especially useful for saltwater Destinations, where heavier leaders and tippet are used. Black nickel finish, package of 10 rings.
This is a must if you want to get the most out of your leaders. These 2mm tippet rings are linked to the end of your tapered leader, allowing you to tie on lengths of tippet without harming or diminishing the leader. Even if you change flies and tippet lengths dozens of times every time you're on the water, this can allow you to spend an entire season without changing your leader.
These rings are tiny and light enough to float on the surface, and their lightweight nature has no effect on casting. It acts similarly to a knot, but you don't have to cut your leader short every time you change tippet lengths.[/vc_column_text][/vc_column][/vc_row]