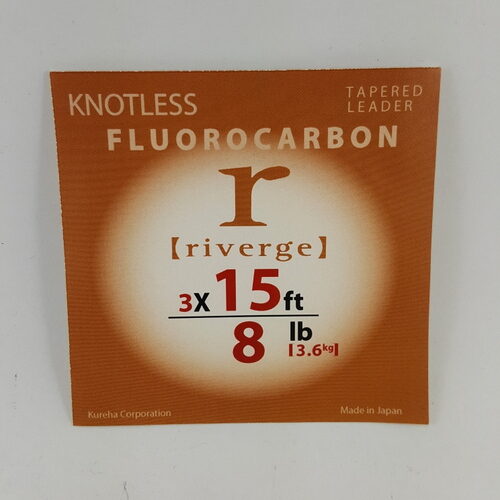 Sale
Riverge Flurocarbon Leader 15ft
$13.50
****** SUPER     Special  Clearance  ******   
Riverge fluorocarbon leaders are claimed to be the world's strongest. Made in Japan by  Kureha Chemicals, whose Seaguar arm also produces other popular fluorocarbon lines including Riverge, Grand Max, Soft Plus, Ace Hard and Reel Soft tippet material.
Riverge Grand Max is a well-established product, having been a market leader for nearly 20 years.
Leaders do not absorb water ensuring rated tip strength is maintained and have a high shock and knot strength, easy turnover, they repel water and are invisible in water. Available in 9ft and 15ft packs
One unit per pack.
| | | | |
| --- | --- | --- | --- |
| Size | 3x | 4x | 5x |
| Tip Diam mm | 0.210 | 0.185 | 0.160 |
| Butt Diam  mm | 0.500 | 0.500 | 0.500 |
| Break Str lb | 8.0lb | 6.0lb | 4.0lb |
| Break Str kg | 3.6kg | 2.5kg | 1.7kg |