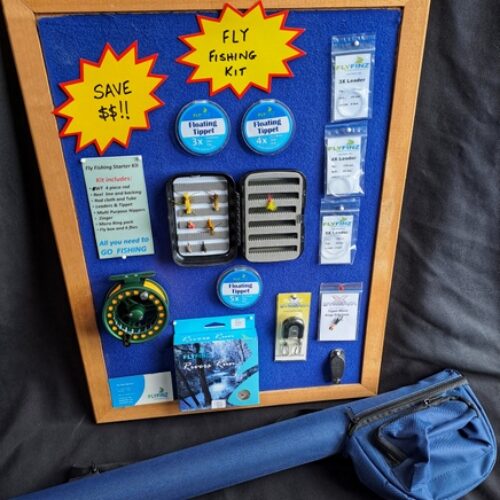 Sale
Starter Fly Fishing Set Up – RiversRun
$445.00
The RiversRun Fly Fishing starter pack includes all you need to GO FISHING!!

Pack includes   :
Our very popular RiversRun series 5WT 4 Piece 9 ft rod.  IM12 46T quality Korean graphite blank with titanium plated ring and snake guides fittings from USA and Japan. Backed by our no nonsense 2 year original owner warranty on materials and workmanship. Half well

cork handle prepared from selected cork with minimal resin fillings.

Type 3 CNC machined aluminium reel seat fittings and Burl wood insert makes this rod a delight to use – you will not be disappointed !!!

5/6 CNC machined reel backing and our RiversRun Specialty series fly line
3 leader packs  3x, 4x and 5x
Tippet 50mtre spools – 3X , 4X and 5X
XStream micro rings
Fly box with central swing arm and 6 selected flies
Multi featured line nipper and a XStream Dual Zinger with magnet
Rod tube with built in zippered accessory pocket to carry your complete outfit
We are confident that you will be impressed – exceptional quality and value for money.

*** Try it before you buy  !!!!!   ******
Rod , reel and line can be exchanged for a larger or smaller combination