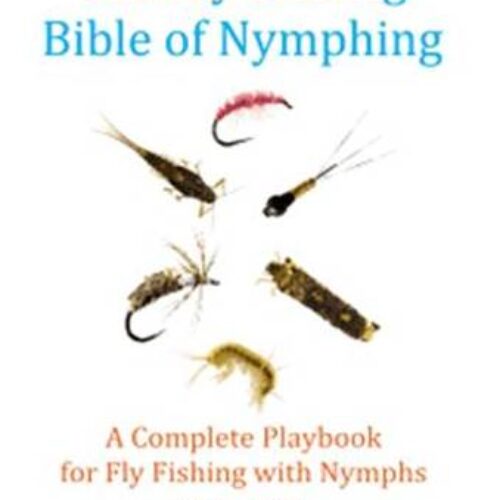 The Fly Fishing Bible of Nymphing
$56.99
The Fly Fishing Bible of Nymphing  – Dr Peter Gaskell   *** Includes over 2 hours of supporting video material *** Exclusive to book purchase only

The aim of this book is to arm you with the most complete range of tactics possible and give you the confidence to tackle new waters and different conditions. It does this by clearly explaining WHY to choose – as well as HOW to use – each rig & technique.
The methods include:
Czech nymphing  LONG-line variant & the famous SHORT-line tactics

Polish nymphing

Ladder Leader Nymphing

Classic French Nymphing

The family of modern "Nymphe au Fil", Pêche a la Sempé and Spanish Nymphing

French Leader with Dry Fly

French Leader with Streamer

Duo and Trio –Euro-style Hopper/Dropper

Slovakian nymphing
All this is underpinned by the understanding of a freshwater biologist (and nymph fishing addict) which reveals important secrets of predators and prey behaviour in our rivers – and how to hotwire that system with our artificial flies.
PLUS:
Full color photos of actual flies gifted during major international competition events which let you peek inside boxes of multiple World Championship competitors (including captains and coaches)
Multiple Detailed Spotlight Features on: Sighters/indicators ★ Reading the Water ★ Stealth ★ Casting ★ Feeding Biology of Fish ★ Trade Secret Leader Recipes and Chemical Treatments★ A Simplified Set of Fly Patterns ★ Magic Bullet Method (Selecting Rigs, Flies & Fishing Locations)
This the Soft Cover Edition
a postage charge will be applied at check out
Click & Collect always available
Out of stock
Email when stock available
Additional information
| | |
| --- | --- |
| Weight | 1.1 kg |
| Dimensions | 210 × 50 × 210 cm |
| Item | Select this Book |